ONE AND ONLY OBJECTIVE – SERVICE TO THE SOCIETY
UNRELENTING JOURNEY – FOR THE PARTY
MY FOREMOST GOAL – SERVING THE PUBLIC
PERSONAL SPECIFICS
Name : KR Nagaraju
Father's Name : Munuswamy Karpan
Wife : Malleeswari
Caste : Mala (SC)
Educational Qualification : Graduation
Additional Qualification : National Level Hockey Player (1979-88) Functioned As Sub-Inspector : 1989-1998
Functioned As Circle Inspector : 1998-2009
Functioned As DSP : 2009-2011
As Additional SP : Vigilance and Enforcement
Functioned as DCP : Additional SP, Additional DCP (Traffic, South), Additional DCP, West Zone
As IPS Officer : Commissioner, Nizamabad
Son's Name : Dilip Raj
Daughters' Names : Deepika Raj, Divya Jayaraj Aspiring
Constituency : Wardhannapet
Political party : Indian National Congress
For Regular Updates of KR Nagaraju Sir ( Images, Video, and Song )
Check the Gallery
PROFESSIONAL EXPERTISE:
1) Between the years 1979 and 1988, I took part in various national hockey tournaments.
2) My career in law enforcement began in 1989, and I held the position of sub-inspector until 1998. During this time, I worked in different areas, including Parakala, Nekkonda, Mogullapalli, and Vardhannapet.
3) During my tenure as SI, I was awarded a number of accolades and given several appreciations by a variety of organizations in acknowledgment of the healthy and fruitful relationships I maintained with the public and society. I was honoured with the Indian Police Medal, which is a commendation given out by the government of India to police officers who have demonstrated exceptional service.
4) I was awarded the auxiliary promotion of Circle Inspector (CI) in honour of the valuable services I had rendered in the performance of my obligations and responsibilities.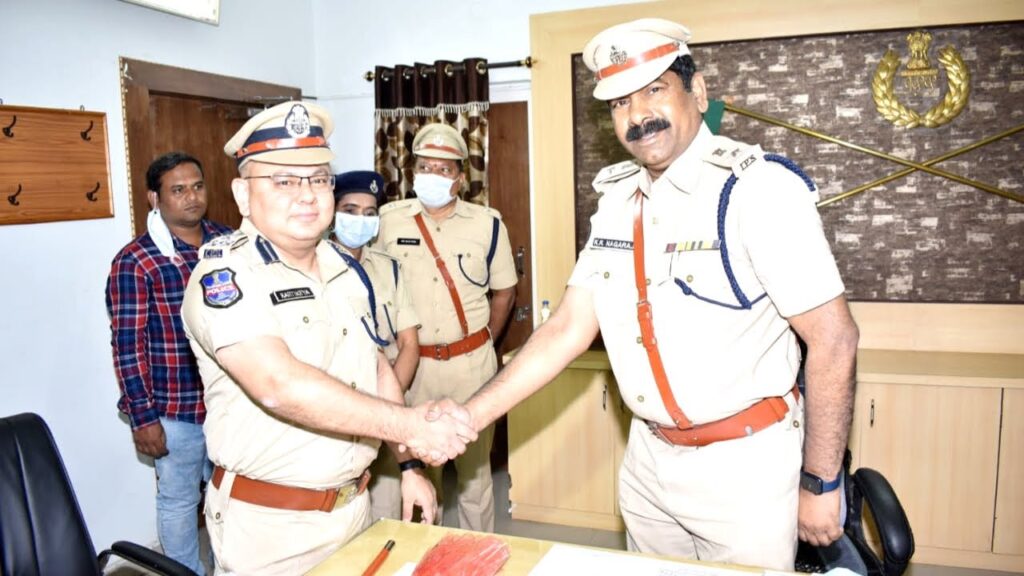 5) In the year 1998, I was successful in carrying out my responsibilities as a Circle Inspector in the areas of Palvoncha, Mulugu, Subhedari, Palakurthi, Sattupalli, and Cheryala.
6) When I worked in the old Warangal and Khammam districts, I took decisive action against bonded and compulsory labor, regardless of the manner in which it was carried out, and I was able to put an end to that unfair practice with a great deal of success.
7) During the time that I served as both SI and CI, I was successful in preserving the public's confidence in the police department by employing all of the citizen-friendly policing strategies that were at my disposal.
8) After being promoted as DSP in 2009, I carried out my responsibilities in the wings of vigilance and enforcement, as well within the city limits.
9) After that, I worked in Hyderabad as an Additional Deputy Commissioner of Police (DCP) in the traffic, law and order, and vigilance wings.
10) I functioned as an SP in CID after serving as DCP in Warangal East.
11) In later years, I worked my way up the ranks of the Indian Police Service (I.P.S. cadre) and eventually became Nizamabad's Commissioner. I officially concluded my tenure of employment on March 31, 2023.
12) Throughout my extensive 26-year tenure in the police department, I have received numerous accolades and commendations in recognition of my exceptional performance, in addition to being bestowed with the esteemed Police Service Medal.
13) Right through my employment as a law enforcement officer, I continually endeavoured to motivate young individuals who had veered towards extreme ideologies to reintegrate into mainstream society. To facilitate this process, I actively promoted and supported the act of surrendering oneself to authorities.
MY ROLE AS A SOCIAL ACTIVIST!
1) In my capacity as a representative of the national hockey team, I distributed equipment to multiple hockey players. Additionally, I offered financial support to the sportsmen hailing from economically disadvantaged backgrounds.
2) I established the K.R. Foundation, with the objective of annually distributing complimentary textbooks and backpacks to economically disadvantaged children.
3) In addition, I provide assistance to economically disadvantaged students by means of our K.R. Foundation, which supports their educational expenditures.
4) I provided recommendations for jobs in organizations like those where I have contacts for a number of educated young people who are without employment. Numerous young people and graduates from low income groups found employment with the assistance of this strategy.
5) A series of workshops were organized by the K.R. Foundation with the aim of increasing awareness regarding the imperative to provide employment opportunities and sustainable livelihoods for economically disadvantaged women from marginalized backgrounds.
6) In order to inform the farmers about cutting-edge innovations and techniques important to dairy farming, agriculture, and other vital areas, we also launched awareness campaigns in a number of villages in the Vardhannapet constituency.
7) Engaging in social and spiritual endeavours facilitates my assimilation into society and the broader populace.
EXPOSURE AND EXPERIENCE AS A POLITICAL LEADER:
I have had a prolonged and enduring association with the Warangal district over several decades. I fostered constructive interpersonal interactions with the inhabitants of diverse villages within the Vardhannapet constituency. As a result of the various events organized by the K.R. Foundation, our organization was able to establish a deeper connection with the electorate. I have diligently fulfilled my responsibilities as an officer of the Indian Police Service (IPS) with unwavering commitment and adherence to professional conduct. I propose that active engagement in political affairs is the most effective means for me to uphold my dedication to societal welfare and altruistic endeavours. Because of its pivotal role in the accomplishment of Telangana's goals and its unyielding dedication to public service, the Congress party is, in my firm belief and understanding, the most appropriate platform for the accomplishment of my political goals. This is due to the fact that the Congress party has always been committed to serving the public.
If presented with the opportunity to engage as an activist for the Congress party, I would be deeply privileged and would strive to distinguish myself as an exceptional and exemplary activist. I would endeavour to disseminate the party's ideologies and initiatives to rural regions, enhance public consciousness on the significant deficiencies of the government, and fortify the party's presence in those areas.
I assert my unwavering dedication and resolute commitment to the Congress party, regardless of the magnitude or frequency of challenges that may arise. I thus
pledge my unwavering commitment to persistently pursue the achievement of the party's ultimate success. I kindly request that you duly review my application and provide me the opportunity to contest in the forthcoming Tealngana elections for the Vardannapet constituency. The possession of an inherent capacity to sustain continuous effort without succumbing to boredom, along with the ability to make prompt decisions amidst intense fighting, confers upon me a notable edge.
If I were given the opportunity to take on a position of leadership, I would make a concerted effort to expand the Congress party's sphere of influence within Telangana state. As a result, I respectfully request that you give due consideration to my candidacy and provide me the opportunity to take part in the upcoming elections. Thank you for your time.
Extremely devoted Congress Party ideology and activist!
Yours
K.R.Nagaraju (Former IPS Officer)
హస్తం అభయం – హస్తం మన అందరి నేస్తం
కాంగ్రెస్ అంటే రైతులకు రుణమాఫీ..
కాంగ్రెస్ అంటే ఇందిరమ్మ ఇల్లు..
కాంగ్రెస్ అంటే ఆరోగ్యశ్రీ..
కాంగ్రెస్ అంటే సాగునీటి ప్రాజెక్టు..
కాంగ్రెస్ అంటే పేదలకు భూమి పంపిణీ..
కాంగ్రెస్ అంటే ఫీజు రియంబర్మేంట్..
కాంగ్రెస్ అంటే 108..
కాంగ్రెస్ అంటే రైతులకు ఉచిత కరెంటు..
కాంగ్రెస్ అంటే ఇందిరమ్మ జల ప్రభ బోర్డు..
కాంగ్రెస్ అంటే రూపాయి కిలో బియ్యం..
సుపరిపాలన కాంగ్రెస్ పార్టీతోనే సాధ్యం…
మీ
KR Nagaraju
EX-IPS officer
Wardhannapet Congress Party
For Regular Updates Follow us on
Tag:
#krnagaraju #krnagarajuips #ipskrnagaraju #krnagarajuCongress #congresspartykrnagaraju #wardannapetcongressmla#warangalkrnagaraju#krnagarajucongressmla #congresspartytelangana #telanganacongress #CongressSevaDal #IndianYouthCongress #AllIndiaMahilaCongress #INTUC #NSUI #AICC #warangalcongress #rahulgandi #revanthreddy #kharghe #priyankagandhi #bativikramarka #telanganacongressyouth #congresspartysong #congresspartystatus #congresspartynews #congresspartyindia #congresspartytelangana #congresspartymeeting #congresspartytelugusongs #congresspartygana #congresspartyslogan #congresspartywhatsappstatus #congresspartytelugusong